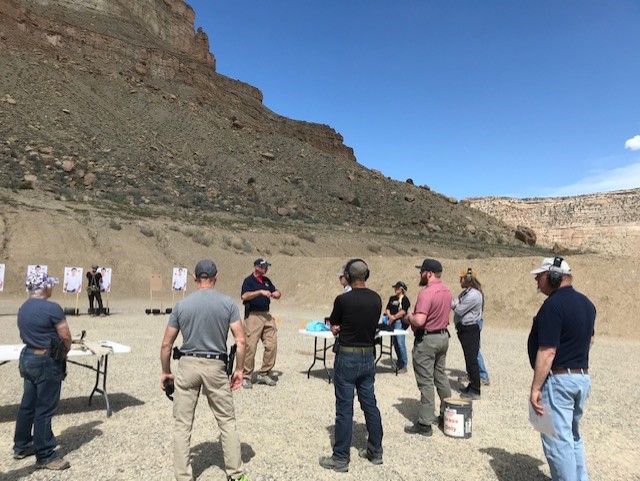 The next NRA Instructor Class is scheduled for October 24 – 29 at the Cameo Shooting and Education Complex. 
Cost is $280.00/person. 100 rounds. Space is limited so please sign up early or contact APG at 970-424-5138 with questions.
Instructor Candidates must have successfully completed the NRA Basics of Pistol Shooting-Instructor Led Class as a prerequisite to taking this class!   Offered on Oct 15th at Cameo.  
Instructor candidates should be safe, competent, and experienced shooters with a desire to conduct basic firearms training at the grassroots level.  The course will be taught by our Training Counselor, David Gifford.  APG has traditionally included Range Safety Officer training with our instructor course.  The RSO training will be on Oct 27-28.  Candidates who already have this training may audit the class or take a couple of nights off!  The live fire portion of the class will be on Saturday, Oct 29.  
It is our hope that graduates of this training will choose to join the APG Staff of Instructors, but this is not a requirement to take the class.  For those who do choose to join us, we will provide ongoing mentoring as you develop your instruction skills.  New Instructors who help us teach 5 classes will receive a $100 gift card to help offset the cost of training. 
For the live fire on Saturday – Students should bring the following equipment:  A firearm in good condition.  2 Magazines (more preferred).  100 rounds of ammunition.  Eye protection and electronic hearing protection (available to rent from APG for $10 per day).  Ear plugs or barrier ear muffs will not be acceptable.  A holster and a magazine carrier.  
Schedule:  October 24-28 evening classes will start promptly at 5pm.  October 29th – Range time – will start at 8 am.  Classes and range are at the Cameo Shooting and Education Complex (I-70, Exit 45).
We intend to teach the NRA Instructor course annually, but could add a class if there is strong interest.  Dates are TBD.   
Registration Deadline: Please register and pay for the class as soon as possible.  Minimum class size is 4 students, but we hope to fill the class with 10-12.  If the class is cancelled due to not having enough students, the registered students will be "fully refunded".  
Click Here to Register and Pay On-Line 
Please contact APG with any questions at: actionpistolgroup@gmail.com or call 970-424-5138.