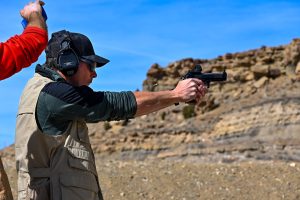 Action Pistol Group (APG) is offering a class of instruction in Competitive Shooting.
The class will focus on three major types of pistol competitions:
IDPA
International Defensive Pistol Association
USPSA
United States Practical Shooting Association
SCSA
Steel Challenge Shooting Association
TRAINING SCHEDULE

The class is designed for shooters who have never participated in these types of shooting competitions. Classes will be held monthly at the Cameo Shooting and Education Complex (CSEC). The class start time will be 9:30 am in April thru October and change to 12:30 pm November through March. Report 30 minutes prior to class.

DETAILS
Who May Register For The Class: Any person who may legally possess a firearm and is physically able to engage in the movements required for competitive shooting.
Location: CSEC is located 3 miles east of Palisade, CO. Take I-70 to Exit 45 and follow the signs.
What to Expect: Three hours of instruction taught by certified IDPA and USPSA Range Safety Officers. There will be a safety briefing followed by detailed instruction in the rules and fundamentals of IDPA, USPSA and SCSA including live-fire shooting of stages from each discipline.
What to Bring: A pistol in good condition that has been cleaned and lubricated. Caliber: At least 9mm or .38 Special, enough magazines or speed loaders to shoot 24 rounds without stopping to load magazines. Magazine/speed loader carrier if you have one, a belt carried holster; 100 rounds of ammunition.
Registration Deadline: We ask that you register and pay for the class not later than the Wednesday before the class. We need time to schedule the proper number of coaches. Minimum class size is 6 students. Students may be rescheduled to the following month if we don't get enough students. Please register early! 
Cost:

$10  – No refunds for cancellations or no shows. 
REGISTER & PAY

Class Information
Instructor Notes & Curriculum
ITCS Setup
Questions? Email Us!
Call us! 970.424.5138