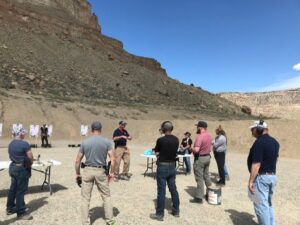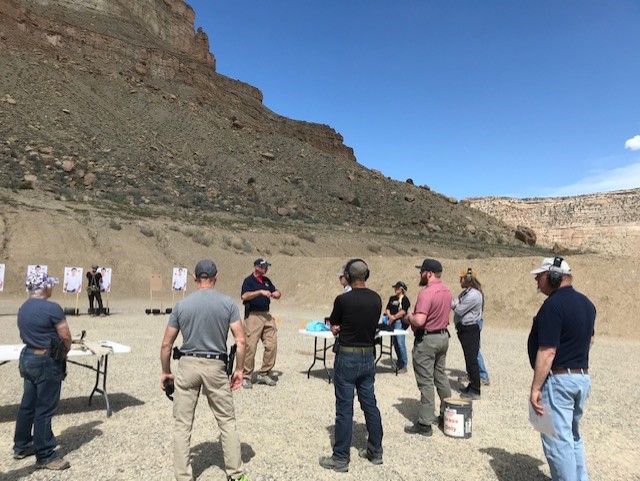 The next Basic Class (and last one this year!) is scheduled for Saturday, October 22 at the Cameo Shooting and Education Complex. 
Cost is $75.00/person. 50 rounds. Space is limited so please sign up soon or contact APG at 970-424-5138 with questions. 

The Action Pistol Group (APG) provides a comprehensive course of instruction covering basic rules of gun safety, firearms law, safe operation, gun maintenance, concealed carry techniques, situational awareness and more. The training far exceeds the Colorado State requirements for obtaining a Concealed Carry Permit. We have a mix of both male and female NRA Certified Instructors. You will participate in classroom and live fire exercises designed to quickly develop your confidence in loading and shooting your pistol. 
Students should bring the following equipment:  A firearm in good condition that has been cleaned and lubricated.  Magazines (2 or more preferred).  50 rounds of ammunition ).  Eye protection and electronic hearing protection (available to rent from APG for $10 per day).  Ear plugs or barrier ear muffs will not be acceptable for the class. A holster is NOT required for the Basic Class.
Schedule:  Classes are held the second Saturday or Sunday of the month at the Cameo Shooting and Education Complex (I-70, Exit 45).
Click here for the 2022 Training Schedule.  The fee for the training is $75.00 per person.
Registration Deadline: We ask that you register and pay for the class not later than the Wednesday before the class. We need time to schedule the proper number of coaches. Minimum class size is 6 students. Students may be rescheduled to the following month if we don't get enough students. Register early!
Click Here to Register and Pay On-Line
Please contact APG with any questions at: actionpistolgroup@gmail.com or call 970-424-5138.