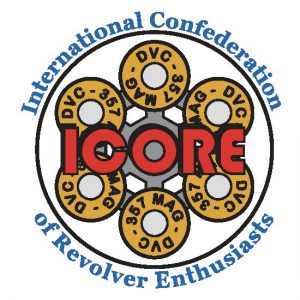 The Action Pistol Group is hosting the 2023 Ruger International Revolver Championship at Cameo.
This match brings  the top revolver shooters from around the world to compete for the world championship title.
DATES:
Match starts: September 27, 2023 @ 1:00 PM
Match ends: October 01, 2023 @ 5:00 PM
LOCATION:
The match will be held at the Cameo Shooting and Education Complex (CSEC), located just outside of Palisade, Colorado. The range is located 15 minutes from the Grand Junction Airport (GJT) down Interstate 70.
For more information about CSEC, check out the website https://cameosec.org
COURSE OF FIRE:
14 stages (including chrono) with creative props and stage design. Round count is 300 (bring at least 350 for re-shoots or extra shots).
SCHEDULE:
Staff-Match: September 27-28
Main-Match: September 29 – October 1
Award ceremony and BBQ: Sunday, October 1, 2:00 PM
Competitors will shoot half of the stages on each day of the Staff-Match or the Main-Match schedule. The morning start time will be 8 am Thursday thru Saturday and 8 am for the Sunday Shootoff. The afternoon start time will be 1 pm Wednesday thru Saturday.
Competitors are welcome to shoot the Staff-Match schedule on the 27th and 28th along with staff, but space may be limited. Just squad in a Staff-Match squad. Any shooter wishing to shoot the whole match on a single day must shoot on Thursday, September 28.
STAFF:
Would you like to work the match as staff? Do not complete the Practiscore registration! Please fill out an application at: https://actionpistolgroup.com/irc-work-application/
FOOD: 
Lunches will be provided for Staff Thursday thru Saturday. Competitors may purchase lunch at the range from our food truck either before or after shooting your match. On Sunday, there will be an awards BBQ at the picnic shelter. Competitors BBQ meals are part of your match fee. Guests will need to purchase a meal ticket for $10 which will be collected before going through the serving line.
DIVISION / CLASS CASH PRIZES AND THE SHOOTOFF PRIZES WILL BE AWARDED AT THE BBQ.
 If the winner is not present, we will mail it to the registration address on Practiscore.
TROPHIES:
Will be presented to winners at the BBQ. If the winner is not present and wants to receive the trophy, then send us a check for $15 to cover shipping, with your mailing address, and we will ship it to you. Send the check payable to: APG, PO Box 1761 Grand Junction, CO 81502.
RANDOM DRAWINGS:
Throughout the Awards Ceremony, we will draw tickets to win guns donated by sponsors. You MUST be present to win! We like to save the best for last!
ICORE MEMBERSHIP REQUIRED:
A current ICORE membership is required at the start of the match in order to participate.
SHIPPING AMMUNITION:
Competitors wishing to ship ammunition to Cameo should ship via UPS or FedEx to:
[YOUR NAME] / IRC
Cameo Shooting and Education Complex
3934 I 9/10 Rd
Palisade, CO 81526
Call (970) 464-1339 for any additional questions regarding shipping ammunition.
MATCH SHIRTS:
Match shirts will be provided for staff and competitors. Competitors who register after August 10th will not receive a match shirt nor a discounted match fee.
CANCELLATION POLICY:
Refunds will be granted in full, minus administrative costs, through August 10th. No refunds after August 10th.
WARNING: BOOK YOUR FLIGHTS AND RENTAL CARS EARLY. Grand Junction (GJT) is a Regional Airport. Airfares and car rental fees increase significantly when the travel demands increase. Please book early, especially Staff! We need you here!
MATCH HOTEL:
The Quality Inn, 733 Horizon Dr, Grand Junction, CO – 970-245-7200. Ask for the special ICORE rate of $99, which includes a great breakfast each morning, starting at 5:30 AM. Say hello to the Manager. Rick is one of us! The match hotel is located 5 minutes from the airport, about 15 minutes from the range, right off of I70.
To book a reservation at the special IRC rate, click here: https://www.choicehotels.com/reservations/groups/MT76V6
CAMPING:
Camping is available within a few miles of the range at James M. Robb – Colorado River State Park – Island Acres Section
$18/night for tent sites to $28/night for full RV hook ups (rate could change minimally)
1-800-244-5613
https://www.cpwshop.com/camping/james-m-robb-colorado-river-state-park-island-acres-section/r/campgroundDetails.page?parkID=50027&media=3
There are a limited number of "dry-camp" RV sites at the range and are available to reserve by calling the range office at (970) 464-1339.
REGISTRATION:
Registration is via Practiscore: https://practiscore.com/ruger-international-revolver-championship/register
PRICE:
$230.00